Profile

Sea Change
What's past is prologue...
This journal should be viewed with discretion.
Free Account
Created on 2009-05-01 14:56:37 (#172138), last updated 2012-12-09 (250 weeks ago)
8,529 comments received, 19 comments posted
228 Journal Entries, 218 Tags, 0 Memories, 15 Icons

About

Mini Bio
Mood theme created by the brilliant
kohler (
6hundred72.) Banners and journal icon by
djarum99, background texture for page banner by remidica_stock
In 2006 POTC provided the inspiration to try my hand at writing, and the fandom has provided an opportunity to meet some wonderful and highly creative people. People from all over the planet, people I never would have encountered were it not for our fascination with the pirate universe in all its glorious manifestations. We all saw that through a different lens, and that's part of the joy. I've since broadened my fandom base to include the BBC series
Being Human,
and Tim Burton's
Alice in Wonderland
(yes, I
know
, but...).
You are welcome to friend me; if we haven't "talked" or gotten to know each other in fandom and you'd like me to friend you back, please send me a pm to introduce yourself.
My thanks to all of you, and to Jack Sparrow.
Captain
Jack Sparrow.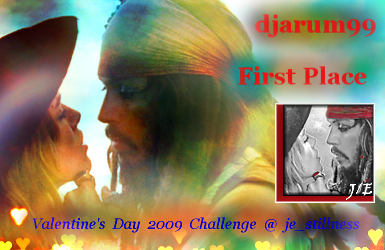 Connect
age of sail
,
alice in wonderland 2010
,
ancient history
,
anne tyler
,
anthropology
,
archaeology
,
archetypes
,
bbc being human
,
bbc sherlock
,
buffy the vampire slayer
,
captain jack sparrow
,
cats
,
computers
,
container gardening
,
cooking
,
current events
,
democrats
,
dorothy sayers
,
eighteenth century
,
elizabeth swann
,
emdr
,
european history
,
evolution
,
fanfic
,
fanfiction
,
fantasy
,
feminism
,
fic
,
fiction
,
firefly
,
folklore
,
geology
,
goddess religion
,
graphics
,
historical fiction
,
history
,
icons
, j/e,
jack sparrow
,
jack/elizabeth
,
jane austen
,
johnny depp
,
jung
,
kurt vonnegut
,
literature
,
magic
,
merlin
,
movies
,
music
,
mysteries
,
mythology
,
natural history
,
neil gaiman
,
paganism
,
painting
,
photoshop
,
piracy
,
pirates
,
pirates of the caribbean
,
poetry
,
potc
,
potc fanfic
,
progressive politics
,
psychology
,
psychotherapy
,
religion
,
road trips
,
sci-fi
,
science
,
science fiction
,
shakespeare
,
social evolution
,
social justice
,
sparrabeth
,
spirituality
,
sweeney todd
,
t.s. eliot
,
tall ships
,
tea
,
terry pratchett
,
the beatles
,
therapy
,
travel
,
ursula le guin
,
world events
,
writing

People
[View Entries]

Communities
[View entries]

Member Of (7):

Subscriptions (9):

Administrator Of (1):

Feeds
[View Entries]

Subscriptions (0)

Linking
To link to this user, copy this code:
On Dreamwidth:
Elsewhere: